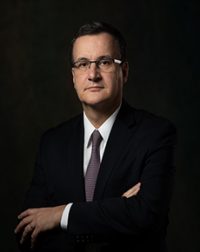 Professor Boris Brkljačić, MD, PhD
Specialist in radiology, subspecialist in interventional radiology and ultrasound, full professor with tenure at the School of Medicine, University of Zagreb, chairman of the Department of radiology, vice-dean for science. Head of the Department of diagnostic and interventional radiology, University Hospital Dubrava.
Board of Directors, member (2017-2022), and president (2019-2020), European Society of Radiology, Vienna. Executive council member of ESR (2011-2017), Finance and Internal Affairs Chair (2011-2014), External Affairs and Communication Chair (2014-2017). Member of the Executive Board International Society for Strategic Studies in Radiology (2013-2019). Fellow, European Society of Urogenital Radiology.
First vice-president of the Croatian Medical Association 2013-2021. President of the Croatian Society for Ultrasound in Medicine and Biology of CMA. President of the Croatian Society of Radiology of CMA 2008-2012. Honorary member of the Israel Radiological Association, Hungarian Society of Radiologists, Slovak Association of Radiology , Bulgarian Association of Radiology, Romanian Society of Radiology, Belarusian Society of Radiologists, Slovenian Society of Ultrasound in Medicine.
Visiting fellowship in Thomas Jefferson University, Philadelphia, and Memorial Sloan Kettering Cancer Center, Cornel University, New York City.
He held over 350 lectures at 270 congresses and professional meetings in Croatia, USA, Australia, China, Korea, South Africa, Brazil, Colombia, Israel, Egypt, Iran, Dubai, Qatar, Giorgia, and over 20 European countries. Organized 32 congresses/professional meetings. President of the joint congress of the European Society of Urogenital Radiology and U.S. Society of Uroradiology in Dubrovnik in 2011. Visiting profesor, Department of Radiology, Memorial Sloan Kettering Cancer Center, New York City. Vice-president of the European Congress of Radiology 2019. President of the European Congress of Radiology 2020.
He authored two textbooks, 59 chapters in foreign and local textbooks and books, 110 scientific and professional papers. He has 2,300 citations (Google scholar); h-index 25. Editor-in-chief Journal of Ultrasound (SIUMB). Member of the Editorial Board of Ultraschall in der Medizin (EFSUMB), and Radiology and Oncology. Leader of three completed projects of the Ministry of Science of the Republic of Croatia, leader of an active research project of the Croatian Science Foundation (2017-2021).
He has chaired the Advisory Board for Radiology of the Croatian Ministry of Health since 2004, and the Advisory Board for Breast Cancer Screening Program since 2005. He is a full member of
the Croatian Academy of Medical Sciences from 2010.